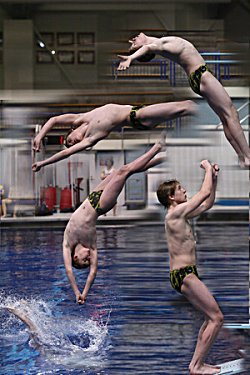 Maroon and Gold Invite Photos
Have photos you want to share? Email Wendy with a link to your photo album, and we will add it here.
Middle School Swimming
Lakeville Middle School Swimming is being hosted by the Storm Swim Club. This offering is aimed at new swimmers who want to experience it without the commitment level of a varsity level offering. The group practices after school at McGuire Middle School and a shuttle bus provided. Practice is 1.5 hours a night Monday - Thursday and begins after Thanksgiving Break for the Boys team, and After Labor Day for the Girls Team. Girls only in the Fall, Boys in the Winter and both in the Spring.
For more info, go to www.mnstorm.org.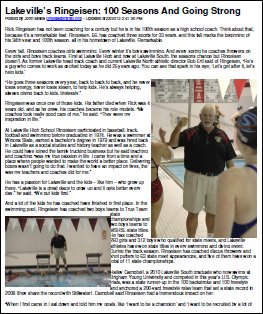 Lettering Times
200 Free 2:03.99
100 Free 56.99
200 IM 2:20.99
500 Free 5:44.99
50 Free 25.49
100 Backstroke 1:05.99
100 Fly 1:04.99
100 Breaststroke 1:12.99
Divers need to average 150 points in a minimum of 3 meets.
You can also letter by placing in the top 16 at the Section Meet. Academic eligibility and attendance are also part of the lettering requirement.
2012 State Qualifying Times
The qualifying standards for each swimming event is established by taking the three (3) year average of the 16th fastest time of the state meet preliminaries at the U of M Aquatic Center. The standard may not deviate more than 1% up or down in any given year.
200 Medley Relay 1:41.88
200 Freestyle 1:47.42
200 Individual Relay 2:01.95
50 Freestyle 22.28
100 Butterfly 54.59
100 Freestyle 49.03
500 Freestyle 4:54.84
200 Freestyle Relay 1:30.77
100 Backstroke 55.54
100 Breaststroke 1:02.57
400 Freestyle Relay 3:21.05