Girls Swimming & Diving
Head Coach: Rick Ringeisen, richard.ringeisen@isd194.org
Diving Coach: Derek Moulton, moultonlava.usmc@yahoo.com, Cell: 612-708-6557
Middle School: Phil Smith, 612-242-9062
2017 Season Info/Schedules
Meet Results
Middle School Swimming
The 6-8 graders will have their first practice on Tue. Sep. 5th at the McGuire pool. Practices the first week will be Tuesday-Friday. Students will take the shuttle bus to McGuire after school. After the first week, practices will be Monday through Friday. Practices are approximately 1-1/2 hours. There will be one combined middle school team, for 6-8 graders. Each swimmer should have an athletic bag, suit, swim goggles, and a swim cap. There are no tryouts for Swimming. Any 7-8 grader with competitive swimming experience who has attained one or more of the "Section Time Cuts", can try out with the varsity on Aug. 14th. You must register for the HS team on FeePay.
For more info, go to the middle school activities page.
Meet Photos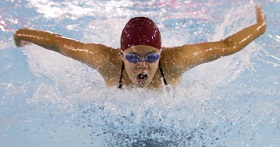 2017 Meet Photos
If you have meet photos to share, please email Wendy Wulff to have them linked here.
Related Info